| | |
| --- | --- |
| Date: | 2010-06-06 14:22 |
| Subject: | possession |
| Security: | Public |
(written on the blank pages at the back of a. s. byatt's book, possession)


7 feb 2010
on a plane back from manila to singapore
11pm

i finished my book and decided to look outside the plane window. it's very dark. all black, the blackest night i've ever seen. but there's an abundance of stars, two of them drifting down as i stared. i think about papa, and still couldn't believe he's gone. his light is still here. i still sense him everywhere - in the way my life unfolds, in the way the uncontrollable becomes blessings. i miss him so much. honestly, i'd rather he's here with me than up there in the stars. how selfish is that.

we're experiencing turbulence now. we lost the stars. we lose them so easily, fragile little lives. outside i only see the red blip of the plane's wings. there's another one a few degrees below us. blip blip. hello hello. that's how they communicate with each other. i am here. me too. always here. i love you, paps. happy birthday. blip blip. i miss you in your stillness. i miss you in your silence. blip blip. i miss you.
---
in keeping with my little sister may's new year declaration, which is to fall in love with our own existence, i am reviving this old gone blog. poor thing has not experienced words for a long, long time. i kind of miss the old days when i used to write almost everyday and just felt really happy and aware of the big, mighty life.

i'm planning to journal again but because it's a big, scary world, i need to keep it restricted. first i need to remove the feed to facebook, which i triggered by accident and couldn't figure out how to undo. gah, i should not be left in the internet on my own!

then i need to set the privacy of this blog to livejournal-friends only (it means you need to have a livejournal account, which you should email to me so i can add you as a friend). it would have been infinitely cooler if livejournal allows the use of pass-phrases and i could use phrases such as "the author of this journal is the prettiest and coolest" like a dark cult thing you need to recite again and again before you are allowed entry. or i can just do a simple and boring "open sesame".

2009 was a very strange year for me, so beautiful in its strangeness. the worst, the best and some unexpected blessed moments came together at the same time. i alternated between periods of extreme introspection and denial. i cried and laughed and loved with complete awareness. other times i stared blankly and floated away.

2009 left while i was watching my son dancing and shouting - completely happy, completely aware, completely alive - and i thought at that moment i could live in a groundhog kind of year as long as it ends like that. he probably got a bit high from licking the rims of the champagne glasses and he was shouting little woohoos, enjoying the big, mighty moment of the new-year blue moon.

life certainly knows how to make us live. what else can i say but thank you?
---
one day i will write that book, one word after another until it is done. not today, but a very faraway tomorrow, when the people i care about are already too old for senses and won't be embarrassed by the stories that have lived in my head.

it will begin with something poetic and painful, like for example "whenever it rains, she thinks of him" and if there's any moral to my stories, it will be that one should never fall in love (although we all know it's not true).

one day i will write that book, one word after another until it is done. it is that easy. and it is that hard.
---
| | |
| --- | --- |
| Date: | 2009-07-17 11:39 |
| Subject: | grief |
| Security: | Public |
let me tell you what it's like.

i was eating dinner a while ago and out of habit i thought, i wonder if papa is still allowed to eat shrimp? then just like that, it grips you. it sneaks from behind and takes a hold of you. so you cry because that's the only thing that makes sense right now. you cry for a while more until you suddenly stop. why are we crying again?

ahh, you remember. because at this very moment, papa is lying on a stainless, cold table. lifeless. it's very difficult to imagine because just a few hours ago, he was still there. warm. breathing. maybe the whole thing is not true. it's just probably one of those scenarios you run through your mind once in a while to prepare for the unexpected. hmmm. denial is a happy place. a deep lake. peaceful and healing on the surface. don't scan the depth.

but something just keeps reminding you of reality. all the black clothes tightly packed in a bag. a plane ticket home. tonight. short notice. it's true, he's gone. wake up, wake up! so you remind yourself that you have to start moving on without him. and there's the real killer. how do you move on? move on from the first and only man who loves you truly. impossible.

so you don't move on, you stay there. because honestly, what does moving on mean? you search for the answer, you overthink, you feel numb. drained. acceptance is a dark and scary place. a deep ocean. an endless horizon. a bottomless pit.

grief. it comes and goes. small waves, big waves. stealthily, noisily. what can i tell you about grief? nothing really. denial is a bliss. denial. denial. denial. a happy place.
---
| | |
| --- | --- |
| Date: | 2009-07-04 18:44 |
| Subject: | going techy |
| Security: | Public |
trying to post from my wireless mobile device. i got myself an unlimited mobile data plan. if this works, i should be able to post updates much much more frequently. eeerrr yea, my posts are close to zero a year. it's difficult to find some online time at home when a little someone constantly tugs you. we shall see if mobile blogging agrees with me (and my phone).
---
| | |
| --- | --- |
| Date: | 2007-08-26 10:41 |
| Subject: | one! |
| Security: | Public |
the little imp is one!
please click
here
for the first-birthday party invite.
---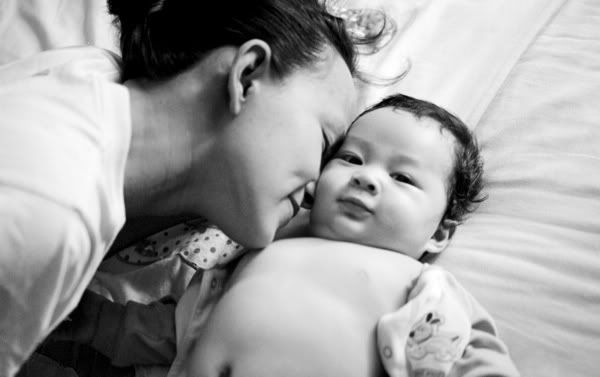 "For to a mother, her child will stay,
the precious infant she held that day."
Time flies really fast.
morrison links:
pictures
video invite
---
---
the third issue of wedding essentials magazine is out now! i got myself a copy before i left manila and the WE team certainly outdid themselves again! the issue is filled with out-of-the-box wedding ideas, so for the brides out there, this is a must-get copy, especially if you're into beach-themed weddings.




and, i'm mentioned in one of the articles about overseas brides, hehe.
---
my vietnam story appears in the things asian website. please take a look if you can. it has a 4/5 rating and i just got an email from an unknown reader that it's one of the best vietnam stories he has ever read! i feel like the richest man in the world! and yes, i'm bragging. hahaha!
---
my first printed article is out and it's in a glossy!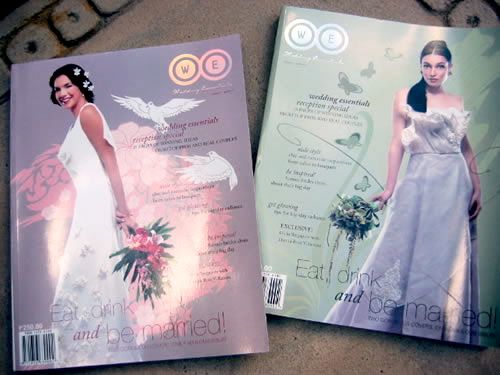 if you can, please grab a copy of the latest issue of wedding essentials, a biannual bridal magazine published in the philippines. the current issue comes in two gorgeous covers and includes, among a bevy of much more exciting materials, an article written by me on planning a wedding from abroad and some photos of ours and tin and ron's wedding details. it also features upcoming wedding suppliers like karl and mimi.

thanks to cyn, the creative director, for my first big, wonderful chance to write for a magazine. i am forever indebted.

(image swiped from cyn's phlog)


---
i am from the yellow and red spartan slippers forever losing their pairs, from well-hidden banana cerelacs and games played under the moonlight.

i am from a house with floor plans forever changing, a doorbell without a use and a backyard pond without a fish. i am from a nipa hut where my father paints, from a garden where my mother meditates and from pebbly playgrounds where my siblings play.

i am from the neighbor's reedy kamias tree, the deep-red gumamela near the gate, the murky puddle from a hose left opened by a sister who has gone to play.

i am from summer beach outings and hugging for no reason, from nestor and paz to jay.

i am from crying over silly things and writing dreams in the air.

from fairies and dwarves and trees growing in your stomach if you swallow the seeds.

i am from the image of the sacred heart which papa religiously cleans, the daily summertime prayers for the free biscuits, the shrill voice of lola diding during alleluias.

i'm from a small house near the river and golden spoons in a suitcase, from a warm cosido soup and a crispy grilled tulingan.

from the happy face of my little brother jay, from the secret, silent tears of my little sister may, from the quiet nature of my brother jun, from the steady hands of my sister vanie and the small fists of my sister ching.

i am from the framed diplomas on the wall, the pictures on the liquor cabinet and the yellowing photo albums in papa's drawer. i am from the dusty cabinet in the kitchen, the pouch bag full of paint brushes and the old typewriter in papa's desk.

i am from the most beautiful past and from the most beautiful people. i am from where i came from and i am from where i will someday return.

(patterned after fred's format, found thru toni.)
---
| | |
| --- | --- |
| Date: | 2005-02-17 15:00 |
| Subject: | overdrive |
| Security: | Public |
(an experimental post)

we're back again to the same busy days of summer last year when i just joined the team and was stubbornly lost, yes stubborn because i didn't want to learn anything at that time as my mind was on some matters outside work, yea haha it was almost my wedding day and i was busy tying ribbons and counting guests, of course not all of them came. so fuck those who did not and fuck some more to those who did not even say why! eight months and i haven't heard a word! i emailed one friend and cared enough to ask why she didn't come and she said something about going to the dentist and that i shouldn't worry so much about it because i'm overseas and can't go to her wedding anyway so we're quits. what bullshit! i would have shaved her eyebrows if she was with me at that time but now i'm over it and of course we're still friends but i don't read her forwarded emails anymore as they most often talk about friendship which i am much too doubtful.


as i was saying, we're back again to the same busy days of summer last year but my team has now me on the driver's seat woohoow! there are two hundred four jobs to be ran and in my reckoning it will take one night to run twenty so i told the boss it's going to take more than two weeks. but what do you know! it only took two hours for the first twenty so boss is happy and well, ok i am too. but still i'm scuttling around the whole nine-to-five, switching screens, printing and faxing booking forms, monitoring jobs and i'm all wound-up, not in a good way, but like how i am when i just had a very strong coffee. my arms jerk, my eyes twitch, the words rush in my mind then jam on my lips so my stories come out distorted and uncomprehensible like when i told boss it only took two hours to run twenty jobs because the record counts are mostly zeroes but all i said was two hours for zero and i saw the look on his face like he was going to faint. hahaha that will be a sight but i was too strung up to imagine him falling off his chair so i tried thinking and speaking slowly like a good employee will do and after a few failed attempts he finally understood what i meant and gave me a relieved smile and a pat on the back.

one hundred sixty one more jobs to go, damn i'm exhausted.

(yikes, mama won't be proud of the writing style.)
---
my sister may's poem, which also appears below, was chosen for publication by a leading internet literary organization. it will appear in their next anthology book series this june.

this is her first attempt to submit a piece and already she's recognized! and the most amazing thing is, she doesn't even make an effort to write. she writes mostly for herself, she doodles in between biology classes and ... she's now an author in a book of poems!

way to go, my little sister! we're all so proud of you!

~

between meetings
(mayleine olfindo)

for as long as she is adoring
this memory you left her
she will continue to delay each repose at night
and wonder at your beauty.
its been long, sweet man.
her waiting is as ripe as wine
and love has gone deep as a mysterious well.
at each ticking of the clock
on this thick night
she sees your past hours when you were called tangible.
at each passing second
she stretches the strength of her memory
you gave her
to be bathed again by your invisible warmth.
but worry not, adorable man.
while you are away and far,
she will pick daffodils and gladiolas
and make castles of sand.
until you meet again.
---
| | |
| --- | --- |
| Date: | 2005-01-19 16:37 |
| Subject: | idle mind |
| Security: | Public |
my mind
just won't settle on a thought
it just keeps wandering
and floating
and circling
teasing me ceaselessly
with big words that won't form phrases
with extraneous phrases that won't reach
then empties
itself
out
into
nothing
but
a pale view of what could have been.

i'm tired,
i'm tired but my mind just won't rest.
even the words
that used to amuse me
now make me
want
to
weep.


i
can't
write.
---
my sister may wrote a very touching tribute for me, in response to the write-up i wrote for her college yearbook. i'm cross-posting it here.

if it were your college graduation. i shall also tell them my reminiscence of this one yellow day when you started to fly, girl with braided hair. mama and papa must've shed a happy tear then to have you gone for an infinite first ever semester but nope, no, I didn't. i was still too young to have a tear gland. 'tis a happy thought that we had to go like an eagle we had to soar above the clouds and when we go back we become better people in thoughts, in ideas, in bodies. away from poverty of all kinds. we had to shed off our first ignorant skin and our happiness will be mounded in our minds and in those people who sent us to ports. we were born to be way better. that was what we were taught and you were the trailblazer and you are always regarded high, sweet passionate pleaser, obsessive compulsive C.R. cleaner, prolific writer, painter, girl with now straight hair. two loving people wanted us to be somewhere beyond their own seas. it was our sweet melodrama. yes that was well understood and well taken but nothing was implacably sweeter than smelling your shampoo at night and bidding you goodbye on the morrow.

110804:0724pm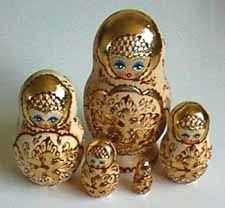 what may doesn't remember is that she was never too young for crying. when the sembreaks or christmas vacations are over and i again had to leave for manila, she would stay awake the whole night prior to my flight and would unknowingly cry oceans of tears till the morning crows.

now that she's a little bit older (but still my little pet nevertheless), she would surprisingly feel a bit unwell and feverish when it's time for her older sisters to fly to the other side of the world.

may's memories are largely governed by her sense of smell (which explains the smelling of my shampoo) and she always finds even my stinkiest jacket the sweetest-smelling jacket she ever had the pleasure of sniffing.

how i wish we could be like the little matryoshka dolls. i could be the bigger doll and all the people i love will be nestled inside me. there's never a need to leave home because i would carry everything with me and we could travel the world together in one piece but many.


---
the world reeks of goodbyes.
my heart bleeds.
then numbs.
---
| | |
| --- | --- |
| Date: | 2004-10-12 11:21 |
| Subject: | hornbynisms |
| Security: | Public |
It's no good pretending that any relationship has a future if your record collections disagree violently or if your favorite films wouldn't even speak to each other if they met at a party.

The unhappiest people I know, romantically speaking, are the ones who like pop music the most; and I don't know whether pop music has caused this unhappiness, but I do know that they've been listening to the sad songs longer than they've been living the unhappy lives.

It must be hard for parents, I guess, when they see that things aren't working out for their children, but that their children can no longer be reached by the old parental routes, because those roads are now much too long.

- Nick Hornby, High Fidelity
---
i had a chat with vanie a while ago and aside from the usual updates, we laughed about my newly-found courage and my godfatherly effort of reclaiming the world i once lost to the bullies. she laughed at how silly i look with my new haircut and if she wasn't a sister and a bestfriend, she would have slept with the fishes right there and then hahaha!

we also realized how much we miss the gossips and the idle talks in our town virac - who's pregnant now, who's dating who, who said what. we laughed at how provincial our life once was but both agreed that we miss those times anyway.

yesterday, ching also buzzed me while i was staring blankly at my monitor. she woke up in the middle of the night because of a bad dream - she could fly and she saw witches carrying heads, casually greeting her. ching as a witch looked exceedingly funny and we laughed and tossed it off. her dream however reminded me of a time in college when we watched the movie practical magic and we both admitted afterwards that we were thinking of each other in sandra (bullock) and nicole (kidman)'s character.

it frustrates me that two of my sisters and bestfriends are on the opposite side of the world - ching in boston, vanie in san diego - but i lean on the thought that the rest of us in asia - jun, may, jay, papa, mama, and me - are all awake while they are sleeping and we all can watch over them, however virtually. while ching is dreamingly asleep and vanie is driving home from work, we are all here on the other side of the world, wide awake, on standby and online.

it gives a whole new meaning to the phrase "just call me and i'll be there."
---



Love at First Sight
(Wislawa Szymborska, translated by Walter Whipple )


Both are convinced
that a sudden surge of emotion bound them together.
Beautiful is such a certainty,
but uncertainty is more beautiful.

Because they didn't know each other earlier, they suppose that
nothing was happening between them.
What of the streets, stairways and corridors
where they could have passed each other long ago?

I'd like to ask them
whether they remember-- perhaps in a revolving door
ever being face to face?
an "excuse me" in a crowd
or a voice "wrong number" in the receiver.
But I know their answer:
no, they don't remember.

They'd be greatly astonished
to learn that for a long time
chance had been playing with them.

Not yet wholly ready
to transform into fate for them
it approached them, then backed off,
stood in their way
and, suppressing a giggle,
jumped to the side.

There were signs, signals:
but what of it if they were illegible.
Perhaps three years ago,
or last Tuesday
did a certain leaflet fly
from shoulder to shoulder?
There was something lost and picked up.
Who knows but what it was a ball
in the bushes of childhood.

There were doorknobs and bells
on which earlier
touch piled on touch.
Bags beside each other in the luggage room.
Perhaps they had the same dream on a certain night,
suddenly erased after waking.

Every beginning
is but a continuation,
and the book of events
is never more than half open.





i so love this poem. could it be possible that your love for each other might have already existed even before you met? and that the moment you first saw each other is just a continuation of a story that has started long before that first sight?


---